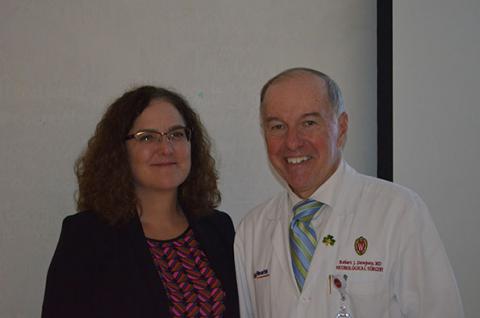 Landis Family Inaugural Research Visiting Professor
Department of Neurological Surgery, University of Wisconsin, Madison WI
Dr. Louise D. McCullough, MD, PhD
Prof. Roy M. & Phyllis Gough Huffington Distinguished Chair Department of Neurology
Chief of Neurology, Memorial Hermann Hospital Co-Director, Mischer Neuroscience Institute University of Texas-Houston
Houston TX
On August 22, 2018 Dr. Louis D. McCullough, MD, PhD came and presented two lectures ("Sex differences in clinical and experimental stroke" and "The effect of sex and aging in animals models of stroke").
Dr. McCullough is internationally recognized physician-scientist working on deciphering the role of age and sex in post-stroke outcome. Dr. McCullough received MD and PhD in Neuroscience from the University of Connecticut. After graduating from medical school, Dr. McCullough continued her training at Johns Hopkins in Baltimore, Maryland for a Neurology Residency followed by a Fellowship in Cerebrovascular Disease.
Dr. McCullough published 168 scientific papers with 10,073 citations and an h-index of
58. She is considered as one of the pioneers in the research on understanding the role of age and sex in post-stroke outcome. Her work on the molecular mechanisms that lead to depression in socially isolated aged individuals after stroke is considered as brilliant by the scientific community. Dr. McCullough serves as the Vice-Chair on the Program Committee of International Stroke Conference which is prestigious. She also received many grants from various funding agencies including NIH. Dr. McCullough received several distinguished awards and honors including the prestigious Javits Neuroscience Investigator Award from the National Institute of Neurological Disorders and Stroke.