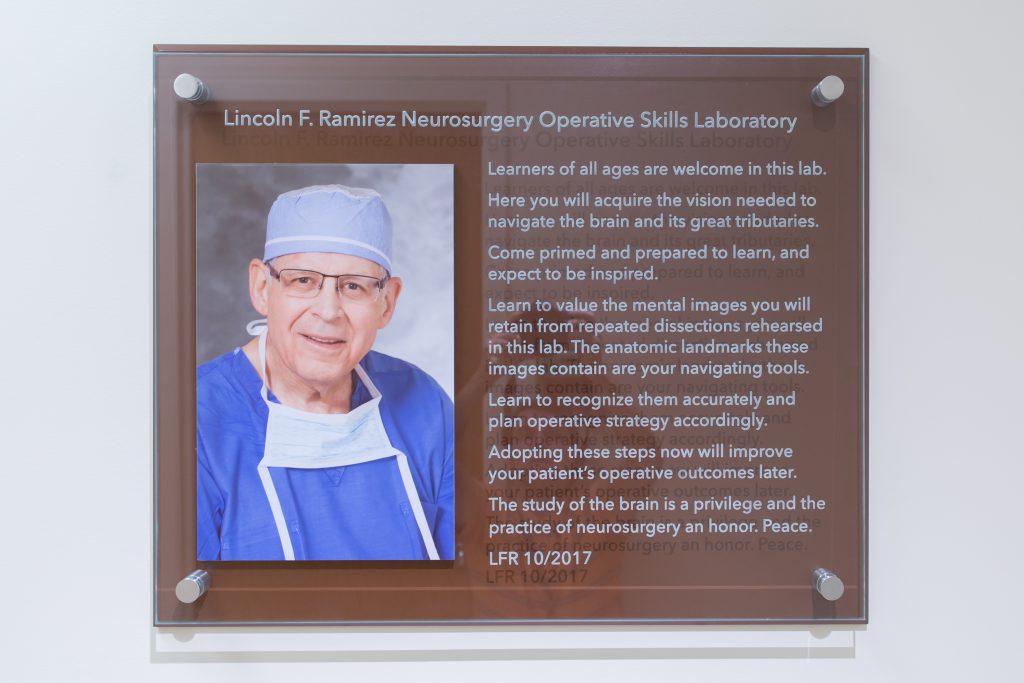 Anatomical knowledge and microsurgical skills require comprehensive laboratory training before mastering these skills. The study of anatomy goes back over thousands of years. Although we have many technological developments and diverse training models, the importance of handling and dissecting real tissues and organs, has not been changed as a way to learn anatomy. The term "dissection" means "to expose to view." The dissection laboratory provides an introduction to the variability of the human body and the uniqueness of each cadaver. Furthermore, it is the only place where the surgeons can improve their understanding of the three-dimensional structure of the human body by visual and tactile pathways.
University of Wisconsin, Lincoln Ramirez Neurosurgery Operative Skills Laboratory does not only provide neurosurgery residents and fellows to have a rare opportunity to explore anatomy using human cadavers but also gives them the chance of training in spatial appreciation and orientation and in the use of instruments that enhance their eye-hand coordination and manual dexterity. The laboratory is equipped with four fully functional stations that can be used for microdissections simultaneously. Each station has its own set of neurosurgical equipment including an operating microscope, suction, and drills. What's more, in total, there are 8 downdraft tables which can be used as 16 skull-base surgery stations. At each learning stations, residents and fellows can explore and learn anatomy under the tutelage of a teaching assistant. Since the use of formalin is allowed in the lab because it has an adequate ventilation system and downdraft tables, the lab can be used for skull-base surgery courses, spinal and peripheral nerve surgery courses.
The lab allows for recording video and still images while performing surgical procedures.  In the demonstration station, a faculty performs the specific surgical approach, and the microscopic view (the magnified view of the operative field) is showed in two big screens.  The faculty's position and movements are shown in another big screen. The laboratory is reserved not only for the use of the residents, fellows, and attending staff of the department of neurological surgery, but also it provides excellent collaborations with the other surgical departments in the education field. The Lincoln Ramirez Neurosurgery Operative Skills Laboratory is directed by Dr. Mustafa Baskaya, MD.
For an article written in SMPH's Quarterly Magazine about the lab, Click Here.