For the latest campus news and information related to Smart Restart and the COVID-19 pandemic, visit UW-Madison's official response page at smartrestart.wisc.edu.
Neurosurgery News
For more articles click here
Events
Cybersecurity Training
The 2022 Cybersecurity Awareness Training for all faculty and staff (including undergraduate and graduate student employees) is now available. This annual training is mandatory per UWSA Policy 1032 (Source: wisconsin.edu) and required for employees who are eligible for pay increases and any type of bonus. The training must be completed by December 1, 2022.
There are two training options available (you only need to complete one option). To begin, select one of the versions below:
A video based version (less accessible for people who are blind, have low vision or use screen readers) available in English
Scan this QR Code for the link:
A text-based version (accessible for all people) available in several languages: Scan this QR Code for the English Link:
Congratulations to Dr Vemuganti's lab on their latest publication
Thursday Conferences
1:45pm - 2:45pm Neuropathology / Brain Cutting
For more weekly events click here
Message from the Chairman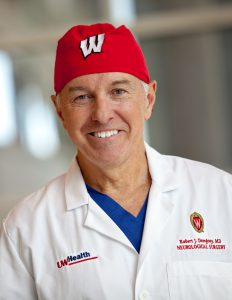 Welcome to the website for the University of Wisconsin Department of Neurological Surgery. In this website you will learn about our department, which is dedicated to providing the very best clinical neurosurgical care for the many disorders of the brain, spinal cord and peripheral nervous system, as well as the blood vessels which support them. You will learn about our work on disorders such as:
brain tumors
stroke
brain hemorrhages from aneurysms (congenital or acquired abnormalities)
spinal cord injuries or degenerations of the spinal and peripheral nerve disorders
pediatric and congenital disorders of the central and peripheral nervous systems
degenerative disorders of the brain and spine
Mission Statement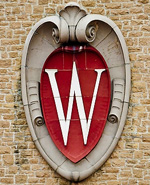 The Department of Neurological Surgery at the University of Wisconsin provides outstanding care and treatment for patients with brain, spine, and peripheral nerve diseases, disorders, and injuries; advances neuroscience knowledge through basic and clinical research; and trains students, residents, and fellows.