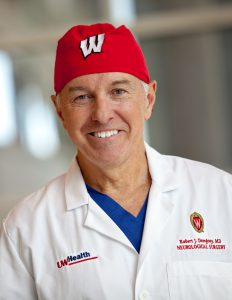 Welcome to the website for the University of Wisconsin Department of Neurological Surgery. In this website you will learn about our department, which is dedicated to providing the very best clinical neurosurgical care for the many disorders of the brain, spinal cord and peripheral nervous system, as well as the blood vessels which support them. You will learn about our work on disorders such as:
• brain tumors
• stroke
• brain hemorrhages from aneurysms (congenital or acquired abnormalities)
• spinal cord injuries or degenerations of the spinal and peripheral nerve disorders
• pediatric and congenital disorders of the central and peripheral nervous systems
• degenerative disorders of the brain and spine
We, as a group, make up a team of physicians, scientists, nurses and staff who are dedicated to the concept that the disorders that we treat are a major threat to the lives, comforts, and abilities of our patients. Therefore, we are dedicated to continually improving those treatments here in Wisconsin and worldwide. In this regard we have a very active research program and educational program, for students, residents and graduate physicians. Our research program is constantly looking at each aspect of neurosurgery, the central and peripheral nervous systems, and determining new ways to diagnose, treat, and improve the lives of our patients. All of this is only possible with an outstanding supporting team of staff, nurses, and nurse practitioners. In addition to describing the department, its people, its objectives, locations, and teams, we are very interested in educating everyone about the activities of the department and involving you as much as possible. This may be in providing information about a disorder, the appropriate way to refer a patient, or in providing support – financial or otherwise – for the ongoing programs of the department.
We are extremely proud of the work of the Department of Neurological Surgery. We invite you to learn more about us through this website and assist us in our work to improve the treatment of these disorders.