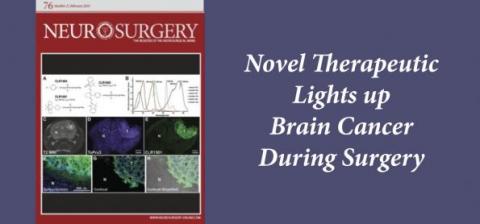 Madison, Wisconsin – Scientists at the University of Wisconsin Carbone Cancer Center (UWCCC) have identified two new fluorescent tumor-targeting agents that seek and light up brain cancer cells, and their potential for use during cancer surgeries.
The study is featured on the February cover of Neurosurgery, official journal of the world's largest neurosurgical society ­— the Congress of Neurological Surgeons.
It is the second major publication this year on the alkylphosphocholine (APC) cancer-targeting technology from the team led by Dr. John Kuo, associate professor of neurosurgery, and Dr. Jamey Weichert, associate professor of radiology, at the University of Wisconsin School of Medicine and Public Health.
When the novel fluorescent APC agents were given intravenously to mice implanted with human glioblastoma (GBM) cells, they traveled through the bloodstream to the brain to seek out and illuminate the GBM cancer cells for surgical removal.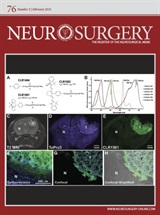 "As surgeons, we are very interested in removing as much cancer as possible to improve outcomes for our patients, but it can be difficult to distinguish between cancer cells and adjacent healthy tissue," says senior author Kuo, who also leads the UWCCC Brain Tumor Group. "This study is an important proof of principle."
Kuo says that both fluorescent APC agents show cancer-selective uptake, and that one agent showed tumor fluorescence signal that is superior to another tumor-labeling agent currently approved in Europe.
Kuo and Weichert's previous paper showed that APC analogs can seek out and detect more than 55 different cancer lines, including cancer stem cells that resist current treatments. Cancer cells retain and accumulate APC agents, unlike normal cells that have the ability to metabolize and eliminate APC analogs. Their initial work successfully showed APC analogs delivering two types of "payload" directly to the cancer cells: an imaging agent or a radioactive medicine that kills the cancer cells. These analogs are now in clinical trials with Cellectar Biosciences, a Madison company co-founded by Weichert.
"It was completely unexpected, but we learned that we could place bigger molecules on the APC platform, which also allowed us to create fluorescent APC agents that can visualize cancer cells beautifully under high-resolution microscopy," says Weichert.
The current study shows successful tumor detection in animal models by the new fluorescent APC agents: CLR1501 (fluoresces in the visible green spectrum), and CLR1502 (fluoresces in the near infrared spectrum). CLR1501 provided contrast between tumor and healthy cells similar to another agent currently being used in Europe during brain surgery. But CLR1502 proved superior in lighting up the cancer cells. What's more, Kuo said, the two new compounds are detectable with many surgical microscopes already in use around the world.
The paper's first author is Dr. Kyle Swanson, one of the neurosurgery chief residents at University of Wisconsin Hospital and Clinics. Other co-authors include Dr. Paul Clark, Ray Zhang, and Mohammed Farhoud of UW SMPH, and Dr. Irawati K. Kandela of Cellectar.
The study was primarily supported by the National Institutes of Health, the Headrush Brain Tumor Research Foundation, the Roger Loff Memorial Fund for GBM Research, the UW Carbone Cancer Center, and Cellectar Biosciences.
Updated on: May 2015