Mustafa Baskaya
MD
Professor
Dr. Mustafa Baskaya, MD, is a tenured Professor and the Robert J. Dempsey Professor of Neurological Surgery at the University of Wisconsin School of Medicine & Public Health. He is also the director of the Skull Base Surgery Program, the Lincoln Ramirez Neuroanatomy & Microsurgery Skills Laboratory, and the Fellowship Program in Cerebrovascular & Skull Base Surgery, all at the University of Wisconsin, Madison. His clinical specialties include surgeries of skull base tumors (meningiomas, acoustic neuromas, chordomas, chondrosarcomas, pituitary tumors), cerebrovascular surgery (aneurysms, AVMs, cavernous angiomas, carotid stenosis, surgeries for stroke, moyamoya disease and cerebral bypass) and complex brain tumors involving deep and highly functional regions of the brain and spinal cord (gliomas and metastatic tumors). Some of his achievements include receiving the Professor Sugita Scholarship, two Resident Teaching Awards in Neurosurgery at the University of Wisconsin, and the University of Wisconsin Hospitals & Clinics Provider Champion Award. This last award is for patient and family experience in achieving the highest level of communication, compassion, and engagement.
His research focuses on characterizing variations of human brain anatomy and identifying less invasive and safer surgical approaches of the deep and eloquent brain regions. He has published over 270 scientific papers, over 50 book chapters, and he is a co-author of two books: Vestibular Schwannoma Surgery: A Video Guide, and Complex Surgeries of the Limbic System.
His national and international leadership roles include being appointed to the World Federation of Neurosurgical Societies Cerebrovascular Surgery Committee, serving as Chair of the Subcommittee for the Cerebrovascular Research Award (of the American Association of Neurological Surgeons (AANS)/ Congress of Neurological Surgeons (CNS) Joint Section), and past chair of the International Division of the Congress of Neurological Surgeons.
Professional Certifications and Education
Medical School:
Ankara University Medical School, Ankara, Turkey
Residency:
University of Miami, Miller School of Medicine, FL

Ankara University Medical School

Fellowship:
Nagoya University, Japan

Louisiana State University, Shreveport, La

University of Miami Miller School of Medicine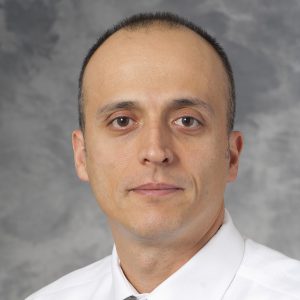 Specialties
Academic
Research
Publications