Raheel Ahmed
MD, PhD
Assistant Professor
raheel.ahmed@neurosurgery.wisc.edu
Raheel Ahmed M.D., Ph,D., is a pediatric neurosurgeon at the American Family Children's Hospital.
He earned his medical degree at the Aga Khan University Medical College, Pakistan. He completed Neurosurgery residency training at the University of Iowa, followed by fellowship training in Endoscopy at Radboud University, Nijmegen, Netherlands, and a Pediatric Neurosurgery fellowship at the Hospital for Sick Children in Toronto.
Dr. Ahmed specializes in all aspects of pediatric neurosurgery and has a focused interest in surgical management of pediatric epilepsy and congenital pediatric spinal disorders.
As Director of Pediatric Surgical Epilepsy, he closely collaborates with colleagues in Pediatric Neurology, Neuropschyology, Neuroradiology to evaluate and treat all aspects of epilepsy in children. Continuing seizures have a disabling, cumulative impact on a child's development. The Surgical Epilepsy program is privileged to provide noninvasive, robotic-assisted depth electrode and invasive subdural grid monitoring to accurately localize seizures. These investigations are then formulated into a comprehensive treatment plan that may include surgery or laser interstitial thermal therapy for resection of seizure focus and neurostimulation through NeuroPace or vagal stimulators to limit seizure generation. A multidisciplinary team of social workers, rehabilitation therapists and nursing staff members helps in providing all aspects of medical cares and assistance for pediatric patients.
Professional Certifications and Education
Board Certification
Neurosurgery
Fellowship
Pediatric Neurosurgery,  The Hospital for Sick Children, University of Toronto, Canada

Minimally Invasive Neuroendoscopy, St. Radbound University Medical Center, Nijmegen, Netherlands

Neurosurgery, University of Iowa Hospitals and Clinics, Iowa City, IA.

Residency
University of Iowa Hospital and Clinics, Iowa City, IA
Internship
University of Iowa Hospital and Clinics, Iowa City, IA
Medical School
Aga Khan University Medical College, Karachi, Pakistan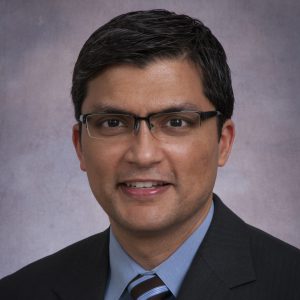 Specialties