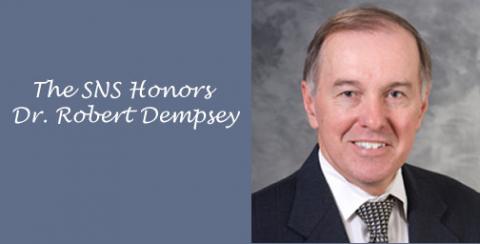 Madison, Wisconsin – Dr Robert Dempsey, chair of neurosurgery in the University of Wisconsin School of Medicine and Public Health, received the Distinguished Service Award at the May annual meeting. It is the oldest neurosurgical society in the world.
The Society of Neurological Surgeons recognized Dempsey for a lifetime of service to national and international medical education at its meeting May 19 at the Mayo Clinic in Rochester, Minnesota.
The award noted Dempsey's 20 years of medical education and teaching trips in Central and South America and Africa.
As chairman of the Foundation for International Education in Neurological Surgery, Dempsey and his entire family have participated in medical teaching throughout the world.
He remains active in the establishment and maintenance of neurosurgical training programs in the developing world, especially the program in East Africa.
Dempsey addressed the group about a plan to develop junior faculty into productive academic members of a department. He is a past president of the society and was active in the reorganization of graduate medical education for United States neurosurgeons during his time on the executive committee of that organization.
Dempsey has been the Manucher J. Javid Professor and Chairman of Neurological Surgery at UW-Madison since 1995. His research has been NIH funded for almost 30 years. He serves on numerous societies, committees, and review organizations including the executive committees of the Stroke Council of the American Heart Association, the Joint Section of Cerebrovascular Surgery of the American Association of Neurological Surgeons and The Congress of Neurological Surgeons.
The Joint Section honored him by naming an annual resident research grant in his name, the "Robert J Dempsey, M.D. Cerebrovascular Research Award."