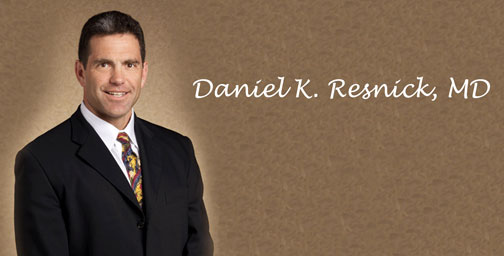 On October 9th, 2012, Dr. Resnick was officially named the president elect of the Congress of Neurological Surgeons (CNS).
The CNS is the largest neurosurgical organization in the world with over 8400 members including virtually all North American neurosurgeons. The mission of the CNS is to enhance health and improve lives worldwide through the advancement of education and scientific exchange. The organization was formed in 1951 and Dr. Resnick will be the 64th President of the organization. He will preside over the 2014 CNS meeting in Boston, MA.
Dr. Resnick has previously served the CNS as Vice President, Treasurer, Member at Large, and as chairman of numerous committees including the education committee. Dr. Resnick concurrently serves as the director of the research council for the North American Spine Society and is head of it's registry effort. The North American Spine Society is the largest spine care organization with a membership approaching 10,000 orthopedic surgeons, neurosurgeons, anesthesiologists, physical medicine and rehabilitation, and other specialists dedicated to treating spinal disorders.
Dr. Resnick is a past chair of the AANS/CNS Joint Section on Disorders of the Spine and remains active on the AANS/CNS Washington Committee with a focus on quality improvement and advocacy for spinal surgery.