Joshua Medow
MD, MSc, PhD, FAANS, FACS, FNCS, FAHA, FCCM
Tenured Professor
Joshua Medow MD, MSc, PhD, FAANS, FACS, FNCS, FAHA, FCCM is a Tenured Professor of Neurological Surgery, Pathology, and Biomedical Engineering and is the Director of Neurocritical Care and the Vice Chair of Quality at the University of Wisconsin Hospital in Madison.
He received his B.S degree from the University of Illinois Urbana-Champaign in 1995, his M.D. degree from the University of Illinois Chicago in 1999, and an M.Sc. degree in Clinical Investigation from University of Wisconsin Madison in 2010 and his PhD in Clinical Investigation / Informatics in 2019.
He completed his residency in neurosurgery, training in critical care medicine, and fellowship in endovascular neurosurgery at the University of Wisconsin School of Medicine and Public Health in 2006 and 2008 respectively.  Dr. Medow founded the neurocritical care program, which includes a state of the art, 18-bed, dedicated Neuro ICU with multimodality monitoring.  He is quadruple boarded in neurosurgery, neurocritical care neurology, neurocritical care neurosurgery, and clinical informatics.
Dr. Medow has received numerous awards for excellent patient care and for teaching and research.  His clinical focus is on improving outcomes and reducing costs in healthcare.  In his first year as faculty, the neurocritical care program that he founded reduced mortality by 43% in the sickest patients and simultaneously saved nearly $3 million in costs.
His lab is formed by a multidisciplinary group of people that come from engineering, computer science, informatics, and the allied health professionals that care for patients at the bedside.  He has presented in many forums about complex case management.  His translational research focuses device development and on AI decision support algorithm development.  His work in AI has culminated in a software product known as the Digital Intern which improves quality and cost savings in value driven healthcare delivery through a standard approach to personalized medicine.  A spinoff company from the University of Wisconsin, Vital Medical Dynamics, actively produces the Digital Intern software and manages the sizeable knowledge base behind the many decision support modules in its library.
Professional Certifications and Education
Board Certification:
Neurological Surgery
Clinical Informatics
Neurocritical Care RFP (ABNS)

Neurocritical Care (CAST)
Neurocritical Care (UCNS)

Medical School:
University of Illinois College of Medicine, Chicago, 1999
Internship:
University of Wisconsin Hospital and Clinics, Madison, WI
Residency:
University of Wisconsin Hospital and Clinics, Madison, WI
Fellowship:
University of Wisconsin Hospital and Clinics, Madison, WI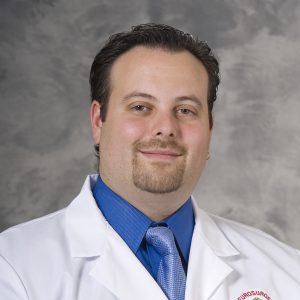 Specialties
Academic
Research
Publications